The road to Mexico
20.351 kms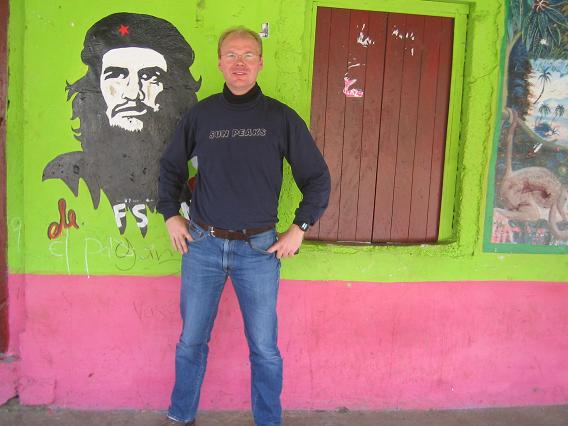 How to cross the Darien gap? It took me some effort to do it. In the Colombia - Cartagena area it was too hard to find a boat to Panama - Colon for me and la moto. There are smuggler boats but reliability is not their middle name. I decided to go back to Bogota and ship the bike as air cargo via a company called Girag. guided me through the process and took good care of my shipment and paperwork on the Colombian side.
One of the steps in the process was the visit of . These guys take their job serious. US customs can learn something from them. They examine luggage like you have never seen before. They taste the liquids and soaps you are carrying, every inch of your clothes is inspected with great care. I started to get nervous seeing all my clothes and stuff on the ground. I was wondering if everything was going to fit again. When they finished their investigation they started to re-pack my luggage the way it was packed. Polite gentlemen!

There we were in , again I had to say goodbye to my friends in . The moment I left Colombia I started to miss it. The temperature in Panama was sky high lucky the road up North passes some cold where you need hot chocolate to warm up. In Panama City I noticed that La Moto had difficulties standing up when parked. Did Girag do something strange with her or was she just tired of the flight? During shipping Girag unfortunately damaged my side kick.

To take some rest we continued to Nicaragua - via . I met a Dutch couple who settled down in Granada. They showed me a vulcanic laguna called . You donīt need to be for tickets in this by the way.

I crossed Honduras in one day, stayed a few days in El Salvador before I reached the . From I drove straight to Guatemala City. This city is highly poluted I had to run away to and operate from there. The chain and sprockets of la moto needed replacement after 19.000 km. In Guatemala City I found a Yamaha dealer. After negotiating a price for the work (25% discount on the retail price, every price is negotiable even here) we agreed to do the work after the weekend what allowed me to do some more Antigua and parts of the where different groups . Normally person is enough to replace a chain. In Latin America they need frequently people to do a certain job which sometimes start to worry me if that is combined with odd questions that make you wonder if you are really at the Yamaha dealer. is a great little town that you forget you are in Central America. You are surrounded by tourist and restaurants serve real food what I didn't mind.

From Guatemala City we continued to drive the from Mixco to Solola, (with the most in the world, passing the vulcanic of Lago de Atitlan. Slowely we reached the border after a visit in Quezaltenango.
Whoa cool! Blij te horen dat alles ok is!

Keep on rolling baby! :)

Brunow
19 - 04 - 07 | 08:12

He, nice to read an update again. so, you have been jetsetting through middle America. hope all in well with your hand, and the bike. take care

Bulent
19 - 04 - 07 | 17:42

He Jan, gelukkig, een teken van leven ! Begon al een beetje ongerust te worden.
Mooie foto's wederom en een dito verhaal. Ik kijk al weer uit naar het volgende reisverslag. Take care. Dave

Dave
20 - 04 - 07 | 13:39

Hallo Jan,

Heb je website gelezen en zie dat je nog niet in Amerika beland bent. Maar begrijp uit je reisverhalen, dat je het goed naar je zin hebt. Inmiddels is het huis aan Laguna de Apoyo zo goed als af. Het blijft er paradijslijk en een goed bewaard geheim. Je hebt nog een prachtig stuk voor de boeg, voordat je in Vancouver bent. Goede reis en misschien zie ik je deze zomer in Amsterdam.
groeten Penny Ashman

Penny Ashman
21 - 04 - 07 | 01:06

Is de hand weer dusdanig genezen dat je weer kan tikken? Benieuwd naar het Mexicaanse vervolg…..

Surfroy
22 - 04 - 07 | 13:05

Hallo Jan,
Met veel interesse je laatste berichten gelezen.
Prachtig dat vulkanische meer.
Denk je dat je ooit nog terug wil naar Holland?
Je bent een schte "aventurero" geworden.
We hopen je toch wel eens te zien.
Groeten Ab en Toos

a.h.claasen
22 - 04 - 07 | 21:35

Juan, Ik ben blij te horen dat alles goed gaat met je, na een lange periode van geen bericht. Wederom heb ik genoten van je reisverslag met schitterende foto's.
Hartelijke groet, John Rietveld

John
23 - 04 - 07 | 09:56

Ha die Jan, ik mail je van de week donderdag of vrijdag nog wat details. We zijn nu bijna in King,s Canyon. Het Net reageert niet, 2 maal bij verschillende bieb,s geprobeerd. Vervelend. We gaan maandag of dinsdag naar Fremont en ik zal Patrick ook van de week nog mailen. Groetjes.

ha die Jan, we zijn nu in Yosimiti,in een hostel met wireless en weer flipt het Net eruit. Patrick weet dat we maandag of dinsdag komen en dan gaat de XT met de truck van Patrick naar Hayward en vervolgens in een container van Hofman Leek, naar Groningen. Zodra mogelijk mail ik de details. Patrick heeft het kentekenbewijs en dat hebben we nodig. Dus alles o.k. We wensen je veel goeds toe en tot mails. jan en Greta.

Leuk bericht. Mexico is een leuke plek om te bezoeken. Dit bericht beschrijft veel over het in detail en is zeer waardevol voor mij. Bedankt voor het aandeel. :)