Colombia is the best!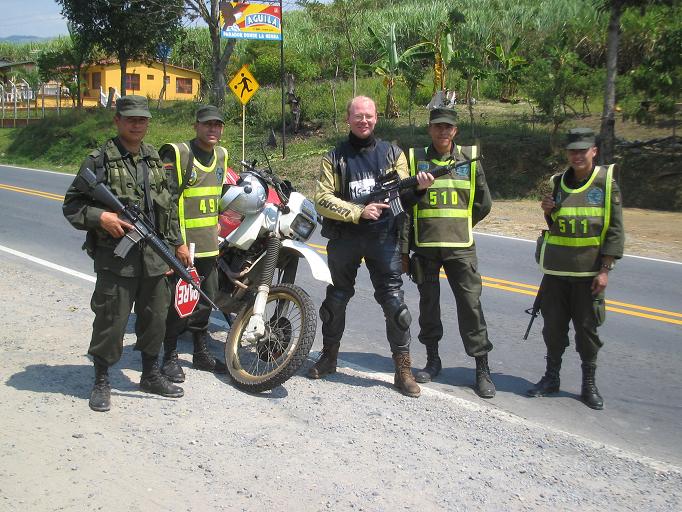 It is a mystery to me why everybody is saying that Colombia is so . The last 3 years this country a lot. The are all safe during daytime. , Transito police and Elite commandos... they wave, shake hands, they all want to see my roadmap and discuss the roads and cities I saw. Without checking my vehicle documents they often let me go.

They are nice guys, all you need to talk about is your motor velocity and engine capacity. This will create a lot of sounds like 'oofffuh'... They also want to have the confirmation that the most beautiful women of the country live in their region and they want to hear that Colombia is the best country of South America!! We are dealing with very proud people here! After that everything is "listo"! No questions remain, all officers salute, guns go out of the way and the highest ranking commander comes out of his chair to tell you Suerte!
I am now almost one month in Colombia. The majority of my time I spend in Bogota. It is hard to leave this city because they changed the numbering of the streets some time ago. If you want to go somewhere you need to know the old or the new address and some kind of direction otherwise you are in trouble. is my little angel in Bogota she helpt me going everywhere in this lifely, chaotic city of avenues and streets.

Bogota has an old city heart surrounded by some sort of European-look-alike new areas. The gold museum was the best. They show gold juwelry, objects and instruments manufactured over the last 3000 years that were found in Colombia: a great place.

Food in Colombia is Sara knows where to . Lunch and with her . They all made me feel very much at home. La moto made a new friend! Sara"s mother wanted to every day on La moto and start cruising through Bogota! She showed me also a lot of new delicious fruits, like Guanabana. Juego de Guanabana.... mmmmhhh why don"t we have that in Holland?

From Bogota I travelled 100 kms North to . An old colonial city where they are now recording the new Zorro-movie! Oh yeahh... Zorro and La Moto. Good mates. When la moto and I returned to Bogota some unexpected free maintenance occured, which La moto liked very much... - - owner of (and double gold Colombian National champion motorcross) offered free maintenance to my bike! La moto took the day off and met some motorcross mates. Hope she didn't get into any trouble there...

In good shape we moved on to ! With some new brakes that we did not use because the advise was: you do not stop in small villages and drive as fast as you can! The road from Bogota to does not have the best but to be honest it is safe! The last part is very quiet and the road is also not in the best shape. But who cares? We made it to Medellin and stayed in a superb place where Claudia creates a good for . I did not visit the cemetery where Pablo Escobar is burried instead I visited the bar downtown where he took his coffee and ran the business with his mates. With Claudia, Thomas and Juan I visited the of an area that is due to a hydroplant nearby. Whole villages were sacraficed only a church tower rising from the water remembers them.

La moto wants to have a good time too, so we visited the mechanic of again: . The idea was to go there just for a coffee, but the mechanics always find something. The engine needed some new o-rings, gaskets, oil and filters. Hector and Carlos did their thing. For the next 12 hours La Moto was treated with great care and attention. These people love motors and travellers. They have a showing all Pan american motor travellers who visited their place. When they heard I was leaving on Sunday for they told me that they would accompany me from Medellin until Causcacia (250 kms). With and we left 06.00 AM from Medellin and ran fast through the mountains and small . People are very friendly in Medellin, it was hard to say goodbye.

But we like the road so we continue.... to CARTAGENA. This good old doggy town where cocaine is offered on every corner. 3 grams for 5 dollars.... I saw so many americans who lost the "way". I know my way and that is Panama. I looked for a sailboat in the harbour but nobody wants to take La moto. Mmmhhh.... I contacted all captains in the region, but without success. I continued with plan B chartering a small plane in Cartagena or Baranquilla but also that did not work out - they refused as well. There used to be ferry from Cartagena to Colon in Panama but it was stopped. I guess forced to stop by the USA to stop drug transports, without taking into account the (moto) travellers. Well, we continue now with plan C: Returning to Bogota and charter a plane there (Bogota - Panama City). Hopefully La moto is going to fly as well. We will find out pretty soon!

If you like hot weather like 38 degrees and maximum humidity Cartagena is the place to be. I decided to move to a little village 20 kms East of Santa Marta with some beautiful beaches from here I am coordinating the Panama crossing with a Kelly in my hand. To be continued...
Ha die Jan, dit is super. De site knalt eruit en spettert, je gaat veel fans krijgen. Dit zijn definitief de foto,s waar iedereen van droomt maar zelden doet. Dit kan een fraai motor reisboek gaan worden. Overigens vermaak ik mij best hier in Texas met mijn XT-tje, blijf nog even en ga dan richting L.A. Groetjes, Jan de Wit.

its a HOLLIDAY!!!

polle
06 - 03 - 07 | 23:57

Ha Jan, Ja Ja, goed hoor zo'n teken van leven.

Theodoro
07 - 03 - 07 | 12:47

Juan, Wat een indrukwekkende reportage over Colombia met prachtige foto's.
Dit is werkelijk genieten en ik hoop dat er nog meer volgen CHAPEAU
Ik wens je een goede tocht naar Panama en blijf je volgen.
John

john
07 - 03 - 07 | 15:02

He Bolivi-jan ! Goed weer van je te horen/lezen.
Een jongensboek is d'r niks bij. Op hoeveel km's zit je nu ?
Laters…..

Dave
07 - 03 - 07 | 16:30

Are you having fun now. What a holiday.
John

John Liu
07 - 03 - 07 | 18:05

Super verslag weer, ga zo door!!!!!!!!

Surfroy
08 - 03 - 07 | 10:27

Nice! Looking forward to see more :) Allmost in the us of a! :)

Brunow
09 - 03 - 07 | 12:49

These pictures are the bset ! Hope you can find a better way to get into Panama i/o returning to Bogota. All the very best….

Bulent
12 - 03 - 07 | 08:35

already in panaman?

polle
12 - 03 - 07 | 20:35

Hey Jan, ik hoorde dat de Colombiaanse hoeren alles doen voor 2 dollar. Kun je er niet twee meenemen om mijn huis te schilderen?

Polle
12 - 03 - 07 | 22:06

ja ja, je huis schilderen… heet dat zo tegenwoordig…

De rode draad
12 - 03 - 07 | 23:03

Ha die Jan, nou is South America zeer interressant, dat zien we maar Arizona, New Mexico en westelijk Texas zijn eigenlijk niet te missen items. Dit heeft wat en moet je zeker doen. Trek er nog maar een paar maandjes voor uit. Waar zit je nu? Ik heb de ingredienten van vermoedelijk een verbrande klep, ga daar vandaag mee bezig. Leuk zo achter een motel met al die rotzooi om je heen. Nou groetjes, jan de Wit.

Jan voor de goede orde, boutje op de tuimelaar los, klep deed niet meer mee en goddank er snel bij. Goed vastzetten die handel en niet te soft zoals ik deed. Vermoedelijk vergeten. Ga morgen verder in Arizona. Enjoy Guatamala. Groetjes Jan de Wit.

Plan C al aan de orde? Spannend verhaal hoor – al kan ik me voorstellen dat je nu klaar bent voor het vervolg van de reis.
Groet van ons hier uit het Utrechtse.

Hi Jan, How are u?, I'm now on Bolivia, after a long travel, and many problems on the way :), anyway, Where are u now?. Cheers Edward

Edward Galarza
19 - 03 - 07 | 14:37

Het is stiiiiiiiil aan de overkant…. (33x)

Gaat alles goed Jan?

Theodoro
22 - 03 - 07 | 01:59

Juanisimo!!!!! Hehe weer iemand die overstag is wat Colombia betreft. Zei toch dat 't een magisch land is. Jan het laatste nieuws, ik word boer in Ecuador en ga met Maria kindjes maken. Wat jij? Eerst nog even mijn ritje afmaken en een nieuwe Mac kopen – gestolen in het hotel van Maria. Ze vraagt altijd naar je en je bent uitgenodigd op de bruiloft. Nou kerel, doe geen dingen die ik ook niet zo doen en blaffen met de ronkende apparaat van je. Beetje aan de snuif geweest in Cartagena? Ciao kerel,

Paul

Paul
23 - 03 - 07 | 20:54

Jezus Jan, zie zelfs dat je een echte M-16 hebt kunnen scoren. Pas je wel op! Je kunt je lelijk bezeren aan die apparaten.

Paul
23 - 03 - 07 | 20:56

Jezus II. Juanisimo!!! Ik zie zelfs dat je mijn vriendinnetje Yoheisha hebt kunnen scoren in El Carmen. Wat grappig, wat leuk. Ze leeft!

Paul
23 - 03 - 07 | 21:00

Jan, er is toch niets geks met jou of de motor? Of iets onmogelijks waar je je handen vol aan hebt? Ik zit nu in Flagstaff en ga richting Las Vegas en L.A. Groetjes Jan de Wit.

Any news Jan ? All still going o.k. I hope. Keep us posted.
Many changes on my side really.

El Turco
24 - 03 - 07 | 21:23

He Jan!
Alles goed??? Hoorde van Lot dat je al in Mexico zit, gaat allemaal snel zeg! Nog even en je kunt je laserles in praktijk brengen. Ben erg benieuwd.
XX,
Anouk

Anouk
28 - 03 - 07 | 14:08

Jan, waar zit je? Toch geen toestanden? Ik zit nu in Shell beach lang de 101 richting San Fr. (in 1 of ander dom motel.) Ga morgen verder. Mijn XT begint lekker te gieren, ik hoorde dat pas zonder watjes en zonder helmmuts. Dus doe ik die weer op. Groetjes Jan de Wit.

http://www.dumpert.nl/mediabase/12343/167d2cff/index.html

polle
31 - 03 - 07 | 19:50

Jan alles goed? Hoor dat je hulp krijgt vanuit de States van mijn vrienden aldaar. Houd Patrick Hayes in de gaten, bijzonder attente kerel. Woont in San Francisco. Hoe is het met de hand en de motor? Wees voorzichtig kerel, we hebben maar twee wielen. Als (įls) het goed is ga ik deze week rijden. Maria is daar dolgelukkig mee. Ik groet je kerel,

Paul

Paul
09 - 04 - 07 | 16:37

Jan, ik ga morgen (11 april geloof ik is dat) weer rijden. Eens kijken wie 't eerst op de plaats van bestemming is. Fuerza kerel. Maria zegt zoals altijd gedag. Ze vraagt altijd naar je en wenst je meer dan beterschap. Ciao kerel. Nos vemos. Een welgemeende groet vanuit Quito.

Paul

Paul
10 - 04 - 07 | 23:18

Weet niet wat het is met die gasten in Zuid Amerika maar hun site bijhouden is er niet bij. Zelfs onze Gallore vriend Paul zoekt steeds zwakkere excuses om maar niets te hoeven doen.

Wat is nu het verhaal Jan, aanrijding gehad, in het gips Jammerha bijna total loss?

Surfroy
15 - 04 - 07 | 14:20

Hoi Jan,
lang geleden dat ik met de hamer achter je aan liep op je diplomauitreiking.
Ik kwam je site tegen op internet. Leuke reis ben je aan het maken. Veel plazier en avontuur nog verder. Je scheikundeleraar, Ben Verzijl

B. Verzijl
18 - 04 - 07 | 20:04