From Peru to Colombia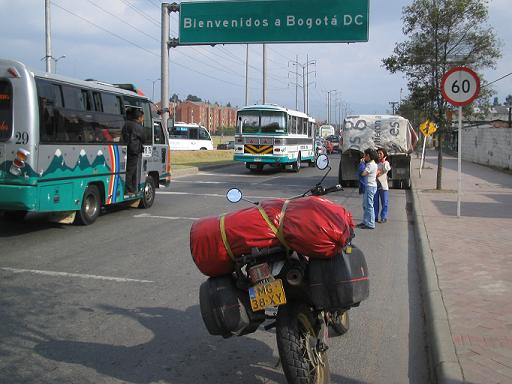 I can hardly it but I made it to . I'm staying safely at Sara's house, 13.000 kms from Buenos Aires. I arrived yesterday after a 450 kms ride from through the high and . Manizales is in the 'cafe' region. An place to visit and something about the coffee you are drinking every day. From (near Pereira) I visited the coffee farm of and his smiling .
The mountains are known to be dangerous here, they are full of heavy armed militia, I even saw a tank on the side of the road. Getting into Colombia was actually not that easy. In Equador it took me 5 hours before they let me leave the country. In the queue people started to warn me I should hurry up going to Pasto.... The road is not so safe you know.... jajajaj... But the police and militaries are amigo´s here. They wave, smile, salute and tell you which road to take and which not. In Manizales the cops invited me for a tour through the town on the policemotors with their unit. Lucky these people are not often visiting Peru otherwise they would get other ideas, like ripping off tourists instead of taking them on tours.

After Pasto I continued on another nice but very dangerous road to . Quiet, hardly any traffic and very beautiful - you can hardly imagine something could go wrong there. From Popayan I moved to Cali to stay for the night. City of salsa they call that place. My hotel was surrounded by Salsa bars and clubs. At the hotel they even offered salsa lessons.

In Quito I was already thinking about taking Salsa lessons but my friend Paul had a different ! No time for Salsa we have to save ! Paul cares for Maria but she is married to a sort of Holleeder. Not an ideal situation.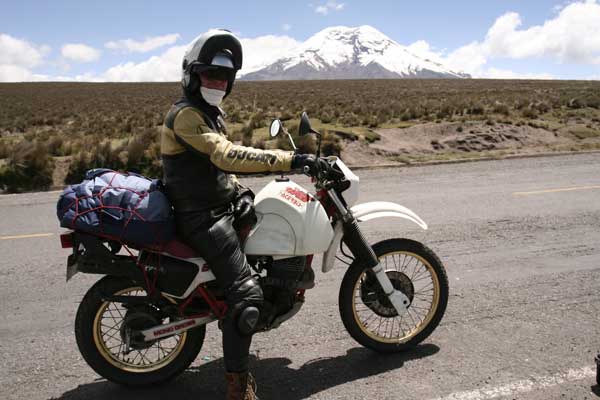 With Paul I made a to Ambato to visit the vulcano and a . In Equador they are crazy about but not about riding motorcycles. Paul´s guzzi and La Moto together have made more kms than all the bikes in we found out during the short time we were on the bikers event.
the Chimbo was easy when we discussed it during an evening drinking beer, but a hours later we ran into . The Chimbo has an landscape but not ideal for a late afternoon ride. The guzzi and la moto had to relax once in a while to be able to with it. The Chimbo is with 6310 meters the vulcano in the world. Paul went crazy when he saw a bright Cotopaxi on the way back to Quito! When vulcano´s look at each other they are probably all jealous of the Cotopaxi. It has the ideal vulcano .

From Ambato it was a nice ride in the direction of the jungle (Banos - ) and found a new : tunnels! It's incredible, but it rains in the tunnels, there is no light, no reflection, no escape and they are LONG! I wanted to take a picture in the tunnel but I was too eager to get out of it.

Before reaching Ambato I took a peek in the of Fausto. He showed me around with his buddies and their machines. My machine deserved a beauty treatment and took a day rest in the of Cuenca. After 10.000 kms I removed the off the road tires and put some new fast road Pirelli´s. The bike loves them!

In Peru I drove along the coast from Nasca to , Trujillo and Mancora. The coast is hot and the North is mainly with asparagus fields in the middle. Pretty strange. is a surfers . Nasca is known for Inca expressing that are only visible from the air in a remote area. Beautiful..

The road from Cusco - Aboncay - Nasca was a little nightmare. On the top of a mountain my throttle cable broke just before reaching . Without engine I ran down the mountain to look for a good place to make an emergency repair. Due to the extra hours for this little delay I arrived after sunset in the mountains where a nasty storm, thunder and lightning show started. With chickenskin and my tail between my legs I drove slowly to Challuanca. The lightning was lighting up the whole mountain and scared the hell out of me. The roads were covered with small and big rocks (as a medium basket) and medium sized mudstreams (my favourite). I was so glad when I reached Challuanca. Fausto arrived there hours before me as usual.
wauw, had je wat foto's opgespaard??
En hoe is Bogota? Zeker weinig toeristen daar..

liselot
16 - 02 - 07 | 11:13

gaaf jan, maarten en ik zitten vol bewondering naar de fotos en verhalen van jou te kijken ,wat heb je al veel km gereden ik denk dat je goed op schema ligt of niet?we volgen op de motorzaak met een hoop klanten jou verrichtingen!echt vet cool!!

maarten en theo
16 - 02 - 07 | 12:55

It looks all very impressive, Jan.
How is Colombia? Are you taking the boat to middle-America?
Take care,

Bulent
16 - 02 - 07 | 16:19

Yo Janus, hard gewerkt kerel. Mooie foto's, goede tekst. Maria vraagt elke dag naar je, ongelogen. Zullen we dan toch maar eens een biertje drinken in De Koe, wij drieen. Harry is vandaag onze alibie. Hij moet 't maar even in zijn eentje uitvogelen, als je begrijpt wat ik bedoel. Heb nu al zin om haar glimlach morgenochtend te zien. Ciao man, mooie reis, mooie motor, mooie kerel. Be safe.

Paul
16 - 02 - 07 | 16:49

YEAH!
THIS IS WHAT WE LIKE! MORE PICS= BETTER

VERY NICE & COOOOL

TALK TO YOU ON THE MAIL

MZL POLLE

POLLE
17 - 02 - 07 | 16:50

Ja dit is wel heel anders biken dan in Europa. Je moet inmiddels een goede conditie hebben opgebouwd want ik, rijdend op een comfortable tourmotor en op goede wegen, voel na een lange rit toch wel wat vermoeidheid. Mooie foto's ook.
Hou je haaks

Koos
18 - 02 - 07 | 09:18

Volgens mij zie ik wat invloeden van Paul door je bericht heen lopen. Enkel positieve overigens! Schitterend, mooie foto's, leest lekker weg, alleen te snel, voor je het weet is het alweer over. Graag meer van dit soort!

Maaruh ik zou toch verwachten dat je minimaal 1 reserve kabeltje bij je zou hebben (koppeling zal nog meer te verduren hebben).

En zie ik knee sliders op je broek? Dan moeten die knietjes aan de grond nu je er een paar Pirelli's road tyres onder hebt liggen!

Surfroy
18 - 02 - 07 | 10:30

Hi, I met and had lunch with your friend Yoong last Sunday at a Taco bell, in Orange Texas.The date was 2-11-07. We had a good talk. I reading enjoyed you site. I hope ou and Young make to the Great Northwest of Canada. Highway 1 in Califonia if a greaat road to ride. It will take you along the coast, all of the way up to Seattle. Happy trails and smooth riding Steve

Steve Dunn
19 - 02 - 07 | 04:31

Ola Juan, Fantastische info van Colombia met schitterende foto's. Het is een plezier om jouw story te lezen. Have a safe trip, John

John
20 - 02 - 07 | 10:50

Hello,
I met and had coffee with your mate Johan Jc Whit last Saturday, February 15th, in Marfa, Texas, USA. Johan is from Holland and was traveling from Atlanta to Alaska on a KLR 650. I was touring Texas on KTM 950. Very much enjoyed hearing your story and am glad now to know of this website. Now I can keep up with your travels and adventure. Good luck to you.

Michael
21 - 02 - 07 | 17:10

Jij lekker in Medellin ik even bij Renato's.
Ciao

guid
23 - 02 - 07 | 03:04

Ik zit in De Zilk of all places. Weird hier. Voel me meer thuis in bijv. El Carmen. Snel weer onderweg, ik. Je went overigens griezelig snel aan dat duffe leventje hier. Alles goed. Dikke kus van Maria. Ze vraagt altijd naar je. Ciao man, be safe.

Paul Van Hooff
23 - 02 - 07 | 15:24

He jan , leuk filmpje en te gekke foto's.
Heb eindelijk een BMW 1100gs, om op te scheuren…

have fun be safe, gr Raymond (renato's)

Raymond
24 - 02 - 07 | 15:49

Oh ja, ook Paul nog even gesproken in een welbekend drankhol dit weekend.
Hij was zeer over je te spreken…

Theodoro
01 - 03 - 07 | 01:42

Gefeliciteerd met het voorspoedig verlopen van je reis. Kijk regelmatig naar de mooie foto's en lees de verhalen.

Jan G. Visser
01 - 03 - 07 | 21:07

ha Jan
enorm genoten van je verhalen en de indrukwekkende foto's
Jammer van de pech met de kabel maar dat hoort erbij!
Gemiddeld gaat het voorspoedig met je reis
Wij hadden een prachtige reis door Andalusië
Voor nu een hartelijke groet
Arnold en Eke

Arnold en EKe
01 - 03 - 07 | 21:29

Hallo Jan,
Ik blijf je volgen. Het is erg indrukwekkend allemaal wat je ziet en meemaakt.
mvg Jan

Jan Zondervan
06 - 03 - 07 | 13:10

You made it through Peru. I am impressed with the fotos.

John

John Liu
07 - 03 - 07 | 17:53

Ik denk dat het was echt een zware baan .. Want van Peru naar Colombia, zelfs op de fiets. Het is echt verrassend voor mij. Maar ik denk dat je ook een heleboel dingen van deze reis te leren.

Peru naar Colombia ..! Mooie reis gepland. Beide plaatsen zijn geweldig voor een perfecte reis. Deze plaatsen zijn schattig en mooi. Mooie plaatsen om te bezoeken. Bedankt voor het aandeel. :)