Winter in Cusco (Peru)
07681 kms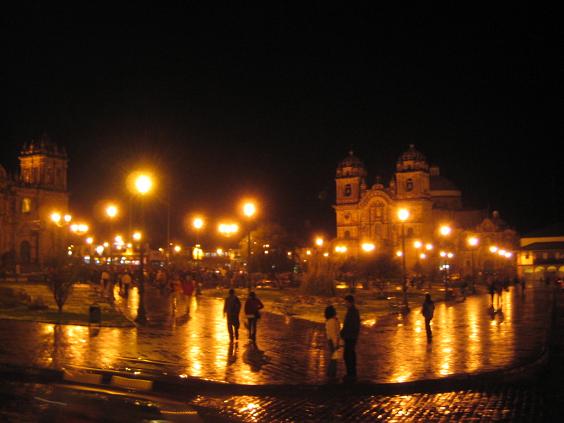 It is an incredible summer in South America. Last few days the temperature has been around 5 to 10 degrees and I had my first hail and snow experience in . as large as big bullets. Irresponsible to go out on the street, everybody was running for cover. I am surprised by the amount of tourists here. Too many shoe polishers running after you. I am still in doubt if I should hit Machu Picchu. My timeschedule is calling me. The rain was terrible today so it will probably be a swimming pool overthere or did the Incaīs take care of a high tech shower system?

Weīll find out tomorrow.
Days in Peru are good. Food is excellent compared to Bolivia where I could hardly eat last week. No nice terrace for a coffee. That country is hard for itīs people. Low temperatures, high humidity, many products unavailable, leaded petrol with unknown octane numbers, and people doing their toilet things in the main . Just lift your skirt and do your thing...

Together with I spend some time in Potosi and Copacabana at the lake. This lake at an altitude of 3800 meter and it's one of the highest in the world and the highest in South America. It has some small beaches, but hardly any tourism. This lake is waiting for an investor. Not me I am leaving Bolivia. Taking a drink in the of Copacabana was great. Fausto was fighting his altitude diseases with hardly legal herbs and coca tea and it worked!

To reach Copacabana you need to take a boat from one side to the other. 10 boats are waiting to take the vehicles. They all look like they are going to sink but surprisingly they even take and other heavy traffic. Driving across the lake gave me a good feeling and made me forgot the misery I saw in Bolivia. I even met my from Argentina again.

Peru started with a negotiation. Long live corruption. The police at the border started asking for facilitating money. Just to be sure the local police could always call the border police in case of a problem, so a contribution was a good idea according to them. A shame I donīt have pictures of these guys. They ask the money in USD and you give the same number in the local currency and they are happy. I send them into the bush with some Bolivianos. They accepted with a smile.

The first city you see after the border crossing is from there it is 350 kms through the mountains crossing at an altitude of 4400 meters to . Again a great ride. Passing some fields with delicious flowers, realizing the bad scent in Bolivia. Driving behind a bus or truck in Bolivia takes months of your life, that is how it feels. Some trucks have a sort of big blue light in the back, but it is just an enormous cloud of exhaust fumes.

The roof of my hotel could not stand the hail and has a lot of holes in it now. My floor and bed are soaking wet. I need to check what is going on.

After all my complaining I got to say that the music is great in South America. In Argentina, Boliva and now again Peru, everywhere music on the streets, in the shops and the internet cafe. Fantastic.

South America is awesome I must conclude after 7500 kms. The next 7500 will contain more sunshine and I canīt wait to hit it.
Ik vind jouw motor cooler dan die van FAUSTO.

ciao. G.

guid
20 - 01 - 07 | 04:44

ik vind jou ook veel cooler dan Fausto, ha ha

liselot
20 - 01 - 07 | 12:32

Hi Jan!
Ziet er goed uit!!! Nu snel een zonnetje erbij en het is helemaal perfect….
Nog een droog bed gevonden????

Anouk
20 - 01 - 07 | 14:25

Jan, the seat on my moto is completely ruined, even worse than yours! Ride safe my friend. Kevin

Kijk die Jan blijft zo lekker doorposten. Mooie tocht, je lijkt wel laag te vliegen dat is als je GuzziGalore Paul's tempo gewend bent.

Surfroy
21 - 01 - 07 | 15:21

Jan,
Good that you made it through Peru. That was what I heard about the Police in Peru. Ride safe.

John Liu
21 - 01 - 07 | 23:05

Hey Jan, reading this brings back lovely memories of Peru. If you could squeeze a brief visit of Maccu Pichu in, it would be certainly worth the effort….

Bulent
22 - 01 - 07 | 12:05

hey tank je eigenlijk wel esso?

hey johnny why don't you meet weitner halfway in the porsche?

polle
22 - 01 - 07 | 22:28

wat gaaf dat je je reisbelevenissen zo met foto's kunt illustreren het is gewoon een beetje door jou ogen meekijken!Heel gaaf!Kan bijna niet wachten op je volgende verslag en ben blij dat alles zo voorspoedig gaat
groetjes mcmaarten

maarten
23 - 01 - 07 | 11:28

mr johnny!

ik ben met guid op de singel! we hebben gepokerd!

hoe gaat het?

mzl Polle

polle
24 - 01 - 07 | 03:51

Hey Jan! Wat een gave site & supermooie foto's! Ik ben wel een beetje jaloers als ik hier zo achter de computer zit….. Hele goeie reis nog & geniet van alles!! Groetjes, Hilke

Hilke
24 - 01 - 07 | 13:40

Hola Jan en Liselotte ( zij is toch nog wel bij je, Jan?)
Jullie maken van alles mee, ook wat het weer betreft en het is nog wel zomer op het zuidelijk halfrond!
Veel reisplezier gewenst en we blijven jullie volgen
Groetjes Ab en Toos

Ab en Toos
24 - 01 - 07 | 19:56

Jan, ik vroeg me af of je inmiddels Guzzman in levende lijve hebt ontmoet, of ligt dat nog in het verschiet? Happy travels.

Theodoro
25 - 01 - 07 | 11:12

Ha die Jan, op jouw gewone Mail adres staat nu correspondentie met Eric Bulsink van Motoplus. Hij heeft wel degelijk belangstelling voor je reis onder bepaalde voorwaarden. Neem de tijd ervoor en race niet als een waanzinnige door Zuid Amerika. Je bent er nu immers en in Nederland kun je je nog eeuwig vervelen. Groetjes, Jan de Wit.

He men, ziet er goed hoor! Erg leuk om het verhaal ondersteund met foto's te lezen. Hier is het stervenskoud, het waait en het regent dag in dag uit, dus geniet er nog maar even van! Veel plezier en succes! Groetjes, Katrijn en Jasper

Katrijn en Jasper
26 - 01 - 07 | 17:30

Jan, groetjes van EM. Net je site gestuurd naar ex ECCOE team leden. Gaaf dat je alles met foto en verhaal kan vastleggen.

Abdi
26 - 01 - 07 | 18:13

Hello, How are you? I imagine your admiration where you are now!!!
Take too much care and be careful with your health
We follow your trip!!
Congratulations,
We pray everything is going well
Regards,
Nelida Troncar

nelida
27 - 01 - 07 | 03:31

Jan, Parramatta is the same fucking town where the police stopped me one evening on my moto for speeding—in first gear! Then, the next morning, the same cops stopped me again. They let me go after I told them that they had already taken all of my money the night before. Bastards.

Kevin
20 - 02 - 07 | 17:41