Roadtax in Bolivia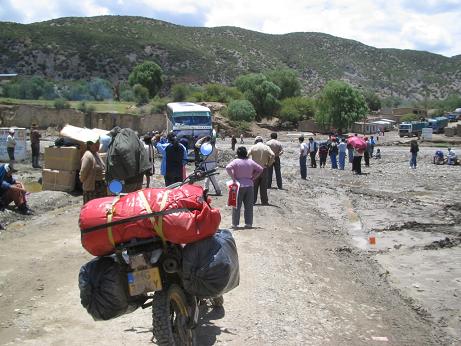 Paying toll is even normal in Bolivia only there are a lot of things that go for free with it: , , wild animals passing, and freezing cold. Together with a guy from Equador I beat the 500 kms between the and Potosi. Everybody has something to say about it. Itīs from asfalt no problem, only 8 hours no problem, only a few rivers no problem. The whole thing was one big problem.
The first 200 kms took me together 10 hours driving. Trucks and busses pass like crazy and it looks like they get points for killing motorcyclists. Once in a while I need to run and hide on the side until everybody is gone. What is wrong with these people?

At the border I stayed in a quiet town where you can escape from the ugly Quiaca. The border crossing was fairly easy. A customs guy picked me out from the queue out of 100 Bolivians and guided me through the customs process which is more complicated if you have a foreign vehicle. The guy from Equador had the same treatment apparantly somebody overthere has a good hart for motorcyclists. From to is and was a good Bolivian introduction. No Gas, No drinks, No people, Only a guy to get the roadtax. They do register who is entering the road by name and type of vehicle so you can check if other motorcyclist are on the way.

All this driving takes place on the altitude between 3000 and 4000 meters. As this height the mixture of fuel and air is not ideally for La Moto. People heard me complaining and said all the cars put 1/2 of an onion in the carberator to have more oxygen so for you it must be 1/4 of an onion. Jajajajajaja.... I thought the onion problems was the only problem I had but while looking for gas I found out they are still using leaded Gas in Bolivia. Nobody knows what the octane number is of petrol. Diesel, Nafta, gasolia I am getting confused here. Some stations sell all fuels under one name. No no this is really good fuel for you. Trust me.... jajajajajaja........

Potosi is known for mining but I donīt dare to go in. I saw the entrance and will leave it for the other tourist. Maybe some more coca tea and I will change my mind.

Tomorrow I will be heading for the west of Bolivia (Oruro) if the rain will permit us.
let me get my focking atlas first…

polle willemsen
16 - 01 - 07 | 01:14

you're almost at Macchu Pichu, that will give some nice kodak-moments!!!

polle
16 - 01 - 07 | 01:34

Fantastisch dit verslag, die van die ui is nieuw, soortement van mengsmering, neem jij maar een kwart ui…..

Denk dat het goede keuze is dat je op een oude fiets daar rondtourt met die peut die ze je schenken als brandstof. Elke nieuwewetse fiets had er al de brui aan gegeven. Zoals vader en zoon de Rooy in Le Dakar hun cilinders de geest hebben gegeven na wat foute brandstof.

Surfroy
16 - 01 - 07 | 07:15

Rekening rijden, iedereen zou het moeten doen! Coca thee, mooi concept. Is dat niks voor la moto?

Theodoro
16 - 01 - 07 | 12:56

Beste Jan,

Ik zit gezellig met je vader een glaasje wijn te drinken. Hij vertelde me net over je geweldige reis, die je aan het maken bent op de motor. Wat een avontuur! Ik zal je verslagen zeker eens gaan lezen. Ben zelf net terug van een reis (-je voor jou..) van 3 weken door Mexico, Californie, Utah, Nevada en Arizona op een dikke HD Heritage. Ook prachtig ,maar jouw reis slaat alles. Veel plezier, geniet van het geheel, maar denk ook aan je veiligheid! Groeten Jan (en van je vader!)

Jan Zondervan
17 - 01 - 07 | 18:44

Jan Zondervan, als je dit leest, mail mij even op g.galama@hetnet.nl over jouw reis door de VS. Was het koud en hoe liggen de prijzen. Ik sta n.m.l. 6 februari met mijn XT-tje op Atlanta en wil via een relaxte rit door Florida, ook de Daytona Bikeweek beleven, dan door het zuiden VS richting Vancouver en vandaar uiteindelijk naar Fairbanks. Wellicht tref ik die Weitner ook nog. Alle info motoveert. Groetjes. Jan de Wit.

Nice 3x, I like your pics bro. I like you r driving through Amerika, MET JE NL KENTEKENPLAAT,hahahaha kanarie rules.

guid
20 - 01 - 07 | 04:35

Jan, yes everyone has a comment on road conditions and the driving time and they are almost always wrong. Once in Guatemala I asked a woman how far it was to the next town. She said, how would I know, I have never been there. That is what life is like in parts of Latin America.

Yo Jan als je online bent kun je dan wat voor me doen? Kom mijn site totaal niet meer op en kan vasil geen emailtje sturen. Moet dringend foto's versturen naar Motor Magazine. Kun jij contact met 'm opnemen aub? Help!

Paul, Vasilis is geinformeerd. Ik hoop dat hij het snel oplost! Ik zit in Lima morgen naar Mancara. Over een paar dagen ben ik in Equador via Cuenca naar Quito. Fausto komt hoogstwaarschijnlijk ook even langs. See you soon

Weitner
24 - 01 - 07 | 05:25